Uganda allots 27 square miles of land to UAE investor
President Museveni has promised to allot 27 square miles of land in Mbarara District to a United Arab Emirates investor to set up model farm in the country. The investor, Dr Ahmad Eltigani Al Mansouri, will bring in new technology to fertilise cows that produce high milk, according to a press release from State House.
The President reportedly promised to allocate the free land during a meeting on Friday at State House Nakasero. Dr Eltigani had called on President Museveni to discuss investment opportunities in the country. Dr Eltigani is also member of the Chamber of Commerce of Sharjah and the Chief Executive (CEO) one of UAE's largest dairy companies, Al Rawabi.
According to a press release, the meeting which was attended by the State minister for Animal Industry, Joy Kabatsi, Uganda president Uganda Chamber of Commerce, Olive Zainab Kigongo, and Secretary to the Treasury, Keith Muhakanizi, also touched on other investment opportunities in different sectors.
Kabatsi confirmed attending the meeting and said the investor plans to set up a model farm in the country. She said the model farm will be established in Nsala, a government land near Mbarara town.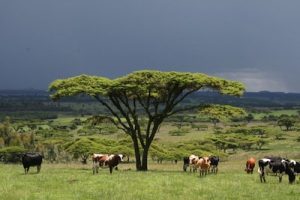 The minister noted that Dr Eltigani is introducing technology where a high milk producing cow is injected with some medicine which will make it produce many eggs. The eggs are then fertilised by a similar bull from a good milk producing herd and then the eggs are implanted in several other cows. She said this will increase the number of the high quality milk producing cows.
"We are trying to do this for our local Ankole cow… we are going to have those cows deliver more and more. We hope this technology will help us to preserve our local Ankole cows," Ms Kabatsi said.
According to her, through the technology, a single cow can produce more than 50 calves of high milk producing gene. According to the minister, the technology is aimed at preserving the Ankole cows and ensure that those that produce more milk are not eliminated.
She said the technology will be rolled to other parts of the country where good quality animals will also be selected for both meat and milk production. She added that through the technology, one cow can produce up to 50 calves within nine months.
While the model farm will host the initial process, the target is to reach about 6,000 farmers who will benefit from the technology.
On why the investor is coming at a time when the President has just returned the Biosafety Bill 2017 to Parliament over concerns on the local genes and a host of other issues, she said the technology will not modify anything, but simply working with the natural genes.
"No no no, we are not modifying anything, we are just using our own genes, but only improving the quality," she said.
President Museveni assured him that the Government of Uganda will locate land to the investors on which more of such model farms for modern farming and factories for food and fruit processing will be built