Mai Dubai Bottled Drinking Water wins prestigious recognition
Mai Dubai Bottled Drinking Water (Mai Dubai LLC) was the only bottled water company nominated as "Best Factory in Dubai in food Safety" by the Dubai Municipality, and to have won the highest rating achieved in 2015 "Grade A". The committee in charge commended Mai Dubai's implementation of the highest standards in quality and the best food safety management systems and processes. The award was presented in a ceremony at the International Convention on Food Safety organized by the Dubai Municipality, which took place on October 27th, with the CEO, receiving the award on behalf of the company. The event was attended by, industry experts and leading companies in the food and beverage retail sector.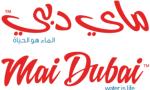 "At Mai Dubai Water, we know that consumers have many choices when it comes to selecting a provider of bottled water. As a result, we strive to set ourselves apart from the competition. The company intends to establish itself by leading through innovation with both its products and services. This, complemented by a world-class commitment to quality, will provide a competitive advantage that will be leveraged for sustained growth over the long term," said Jay Andres, CEO of Mai Dubai.
"We are pleased to receive this award, which underlines Mai Dubai's efforts to be in the lead in terms of Quality, Food safety and innovation. The regulations and oversight by the Government of Dubai in regards to food safety are world class.  We welcome this scrutiny as it challenges us to seek constant improvement and adds credibility to our Industry as well as our Company.  This achievement early in the life of Mai Dubai is gratifying to our dedicated team of employee's, however we will not relax our efforts as a result, in only motivates and energizes us as we move forward," Added Mr. Andres.
Mai Dubai's Commercial production started in March 2014. The factory has since its launch received the FDA, HACCP, ISO22000 and Emirates Quality Mark (EQM) certifications. The factory produces small- and medium-size bottles of 1.5 Litre, 500ml, 330ml and 200ml as well as five-gallon bottles (18,9Ltr). It also produces cups in 2 sizes, 100ml and 200ml.
---
ABOUT MAI DUBAI
Mai Dubai is a high quality Bottled Drinking Water Low in Sodium with a balanced blend of Healthy minerals. It is produced in a best in class facility and is the only bottled water company to be awarded by the Dubai Municipality, the highest grade in 2015 in food safety (grade A). Often described as smooth, light and refreshing, it has become the water of choice for passengers of Emirates Airline.  Being different has been at the heart of the company that's why the red color has been a core-branding element and differentiation can bee seen through the company's packaging, bottle design and advertising campaigns.
Contact This Company: