Al-Watania Poultry
Al-Watania Poultry project was established in 1977, today Al-watania is considered as an elite name in the Middle East, it is the largest factory for production of poultry and eggs in the Middle East. Al-Watania Poultry is located in Qassim region, Saudi Arabia, 350 km from the capital city Riyadh, this giant company cost more than 4 billion SAR. It is one of the bright signs for the Saudi economy which possess unique equipment, capabilities and high advanced technology. We have established fully integrated village with all necessary production units, houses, mosques, roads, restaurants, sewage, water, electricity and communications network leading by highly trained staff.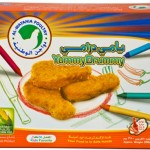 According to Mr. Jamal Al-saadoun the VP of marketing: "Al-Watania Poultry has achieved the level of excellence and quality, with a daily production exceeded 820 thousand chickens and more than one million eggs per day, which made it the first national poultry company in Saudi Arabia. The company obtained both certificates Gulfood's Best Halal Food award and Arabic Quality award as well as the first poultry company received two ISO certificates in international standards (ISO 9001)(ISO 9002). Moreover, the first company in the Middle East obtained the certificate of HACCP, Food Safety (SQF) and (ISO 22000-2005). This assures the company's commitment to implement all international standards in this area. With this achievement, Al-Watania Poultry Industry entered the modern and trusted food industry and extended its services to other food products that are based on poultry, such as; chicken burgers, chicken breasts fillet, chicken nuggets, ground chicken, all chicken cuts, Mortadella and many other fast food products".
This giant project has helped to bring Al-Watania Poultry leadership outside the boundaries of Kingdom to all GCC and Middle East countries.
Contact This Company: